What is Homes for Heroes?

Homes for Heroes was formed in 2002. Following the September 11, 2001 tragedy, a group of Minnesota real estate-related business owners created this innovative network, bolstered by a shared admiration for the "Heroes" who selflessly serve their community.
The Homes for Heroes program is available to help heroes achieve the American Dream of home ownership. It has become a network of real estate professionals, mortgage brokers, and title companies prepared to give real savings to their communities' heroes when they BUY, SELL or REFINANCE a home. Homes for Heroes provides real savings for the people who work every day to make our communities safer, cleaner, and a better place to live.
Who qualifies for Homes for Heroes?
Homes for Heroes gives back to people that are truly deserving including, but not limited to:
Military (Active, Reserve & Veterans)
Law Enforcement
Firefighters
Healthcare Professionals
Emergency Medical Services
Teachers
Clergy
We can help you determine if you are qualified for this program.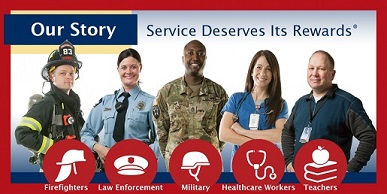 Apply Now for your Hero Benefits
Call or Text (636)697-4707 Today!
How much will I actually save?
25% Rebate of the gross buyers commission is offered exclusively in the form of a Heroes Rewards Check delivered after closing
25% discount on seller's listing commission
Discounted lending fees on purchase or refinances with Homes for Heroes preferred Lenders
Discount on private Home Inspections with Homes for Heroes preferred Home Inspection company
Discount on closing fee when using Homes for Heroes preferred Title Company
*The total amount of savings will vary due to the final selling price of your home.


The Homes for Heroes Promise
No Forms
No Red Tape
No Fine Print
No Hidden Fees
No Catch
All we need to know is your name, contact info and what you do in your community! Call Kathy Bradley today at (636)697-4707.


This sounds too good to be true. Why should I trust you?
We want you to rely on us for savings now and in the future, so we'll treat you in a way that will make you want to turn to us again. We want you to feel great about referring us to your friends and family! For us, Homes for Heroes is not a job, it's our life.


What if I am already working with a Realtor?
If you have already signed a legal agreement with a Realtor, you cannot lawfully work with a Homes for Heroes Realtor. However, Kathy Bradley with Keller Williams Realty will gladly pay a referral fee to any Realtor who refers a client to the Homes for Heroes program. Additionally, assuming you have not committed to mortgage lender, you can still take advantage of the rebates provided by our Homes for Heroes Mortgage Affiliates.


Are Homes for Heroes Realtors full service?
Yes! We offer full service at a discounted rate. A full service Realtor provides professional support in every aspect of buying or selling a home. We are able to offer more savings than anyone else because of our strong business relationships with our Homes for Heroes Affiliates.


Are Homes for Heroes Realtors qualified?
Absolutely! Homes for Heroes has strict Affiliate membership requirements to ensure you will be represented by the best of the best. Our Affiliates receiving ongoing training to ensure they are current in how to provide you with the best possible service.


Apply Now for your Hero Benefits
Call or Text (636)697-4707 Today!

Still have questions? We'd love to discuss the Homes for Heroes program and its benefits with you. Call or text Kathy Bradley at (636)697-4707 or email k.bradley@kw.com.